Description
---
Vitilift Multivitamin Baby Drops is a multivitamin health supplement for the maintenance of good health and to support your child's general wellbeing.
The boost your little one needs
---
The boost your little one needs
Provides your little one with essential vitamins and minerals needed for physical and mental growth development:
Contributes to the maintenance of eyesight, skin, membranes and immune function
Helps to metabolise carbohydrates, fats and proteins
Helps in the development and maintenance of bones and teeth
---
How to Use:
Vitilift Multivitamin Baby Drops may be added to infants' feeds or may be mixed with cereal or fruit juice or may be taken as is.

Shake the bottle well each time before use.
Alcohol, sugar, lactose, artificial flavour and tartrazine free.
This medicine contains sorbitol. If you have been told by your doctor that you have an intolerance to some sugars, contact your doctor before taking this medicinal product. Sorbitol may have a laxative effect or cause diarrhoea.
Always tell your healthcare professional if you are taking any other medicine, including complementary or traditional medicines.
---

Do not exceed the recommended daily dosage.
Safety for use during pregnancy and lactation has not been established.
Porphyria: Safety has not been established.
Do not use:
If you are hypersensitive (allergic) to any of the listed ingredients.
If you have chronic liver disease, hypercalcaemia (high blood levels of calcium) or renal disease or have had in the past. Consult your Doctor if you are unsure.
If you have a specific vitamin deficiency.
Please consult your doctor or pharmacist prior to use if you recently received the measles vaccine.
---
STORE OUT OF SIGHT AND REACH OF CHILDREN
This medicine has not been evaluated by the South African Health Product Regulatory Authority (SAHPRA) for its efficacy and intended use.
This medicine is not intended to diagnose, treat, cure or prevent any disease.
Health supplements are intended only to complement health or supplement the diet. A nutritional supplement should not replace a balanced diet.
Ingredients:
Each 1 ml contains:
The active ingredients are: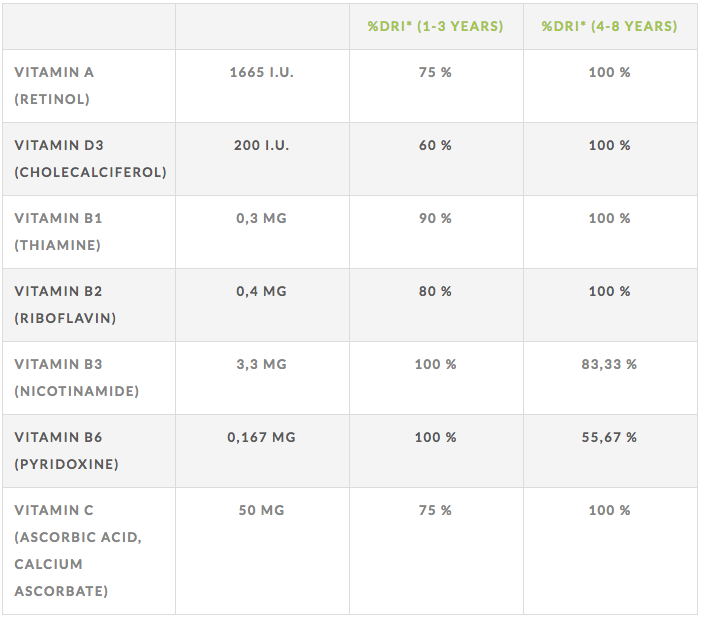 *DRI: Dietary Reference Intake
The other ingredients are: flavouring, glycerine, maltodextrin, microcrystalline cellulose,
potassium bicarbonate, carmellose sodium and water.
Contains preservatives: potassium sorbate (0,035 % m/v) and sodium benzoate (0,045 % m/v).
Contains sorbitol (0,42 g/1 ml).
Contains sweetener CSA 80 2 mg/1 ml (acesulfame potassium, sodium cyclamate and
sodium saccharin).
---
Detailed Information:
Scheduling status: S0. Proprietary name (and dosage form): VITILIFT Multivitamin Baby (drops). Preserved with: potassium sorbate (0,035 % m/v) and sodium benzoate (0,045 % m/v). Pharmacological classification: D. 34.11 Vitamins. Complementary Medicines. Health Supplement. Pharmacological action: VITILIFT Multivitamin Baby is a multivitamin for the maintenance of good health in babies and children. Indications: VITILIFT Multivitamin Baby is a multivitamin health supplement for the maintenance of good health and to support your child's general wellbeing. Identification: VITILIFT Multivitamin Baby is a yellow liquid with a sweet vanilla odour and flavour. Presentation: VITILIFT Multivitamin Baby is packed in a 30 ml amber glass bottle with a black plastic tamper evident cap and graduated glass pipette. Agera Health. info@agerapharma.co.za. www.agerahealth.co.za. 30 ml.
Professional Information & Patient Information Leaflet